"What your owner's manual should have told you… but didn't!"
---
Welcome!
Welcome to the Korg 01/W wing of the Cliff Canyon web site. This 01 section has two purposes: to provide an on-line information resource, and to promote a book. The on-line resource is intended to supplement the book. It was built based on questions that show up on the web, or that are sent to the book's author. If there is a topic you'd like covered, please e-mail questions or comments to the author.
Thanks for coming!
Book information links:
Online Manual link:
How To Use Your Korg 01/W
(an on-line, hypertext guide)
Dozens of pages describing how your 01/W works, FAQs, application notes, and more.
About the Book
| | |
| --- | --- |
| | |
| Front cover | Back cover |
A "How-To" reference for owners of the Korg model 01/W music synthesizer that covers more than just drums. Organized much like the 01/W itself, the manual starts with the basic Drum Sounds, works them into Programs, then Programs into Combinations. Drum Kits are shown on keyboard drawings. Heavily illustrated with more than 40 tables, 25 figures, block diagrams, and worksheets. Includes appendix, glossary, references and index. This book:
Lists internal ROM Drum Sounds, their Kits & keyboard keys
Includes complete lists of the internal ROM Drum Kits
Lists all ROM Programs and Combinations
Shows LCD contents for all internal Drum Programs exactly as they appear in the display
Shows how to make a General MIDI Drum Kit
Includes worksheets for building Kits and Programs
Includes Pattern and Measure Logs to document your sequences
Includes EG, VDF, and Waveshaping tutorials
Spiral Binding to lay flat for easiest use while playing your synth!
Lays flat to easily see two pages: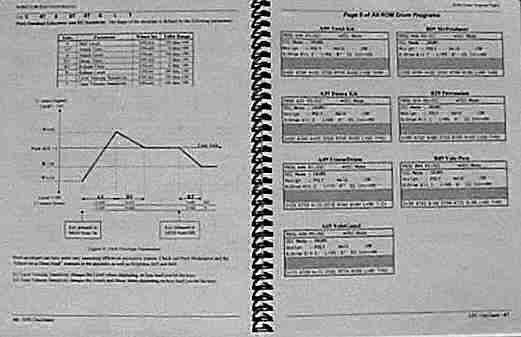 or folds back on itself to one page: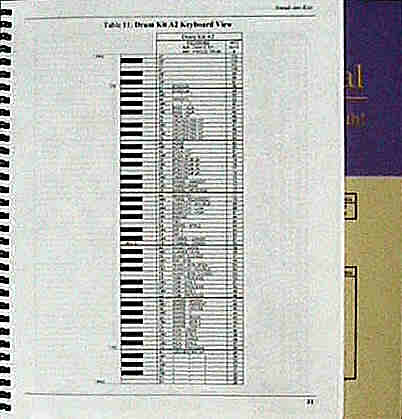 The page above is a Keyboard View for Drum Kit A1, which includes these details: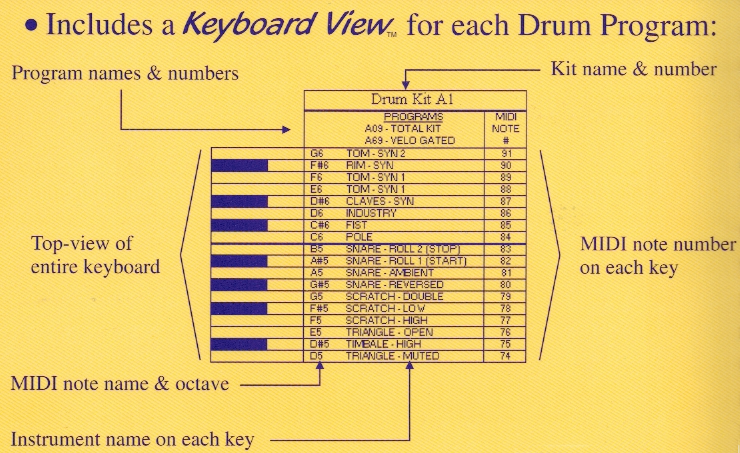 Note: Web sites come and go, but a book lasts a lifetime. We believe this is the only book still available on the 01 and it will not be reprinted after all the current copies are sold.
Copyright 1997
8.5" x 11", 160 pages, wire-bound, with printed spine
ISBN: 0-9653254-0-7
Ordering information
---
Ask The Author!
Ken Westover, author of the 01/W Percussion Manual, welcomes your questions. You can ask anything, not just about percussion, and he'll try to get you an answer. Just e-mail Ken through his publisher's address. Click to e-mail a question to the author.
---
Copyright ©1998-99, 2006, 2015 by Ken Westover at Cliff Canyon Publishing Co. All rights reserved.
This material may not be distributed without the written permission of the author.
E-mail questions or comments to cliffcan@indra.com.